Methodical concept
Subject of factory layout planning
The term Layout is used in factory planning for the graphical representation of the layout of functional and structure units of a company (manufacturing and assembly locations, warehouse, production areas, etc.). Layouts are planned in hierarchic levels, resulting in more or less comprehensive Layout Areas for the appropriate planning task. For structure planning of a complete production location, for example, it is recommended to select a coarser resolution than for designing the layout of a manufacturing cell.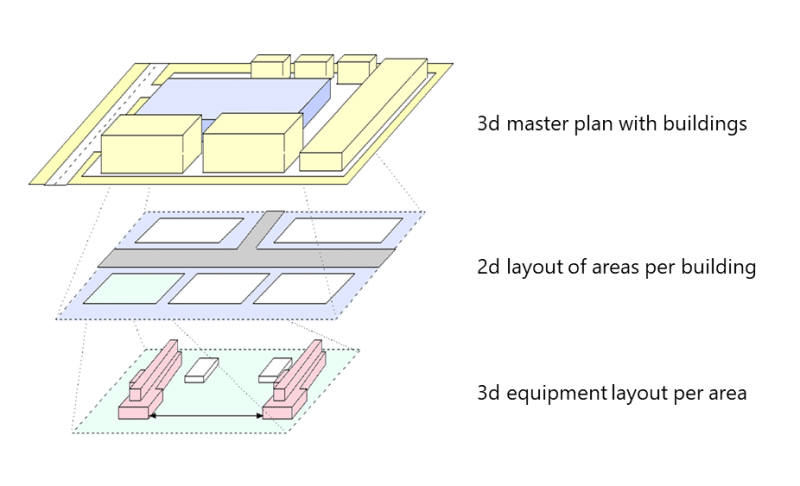 Whereas the hierarchy levels can be delimited quite well by way of flow systems, for example, it is often much more difficult in practice to make a differentiation between factory planning and factory operation.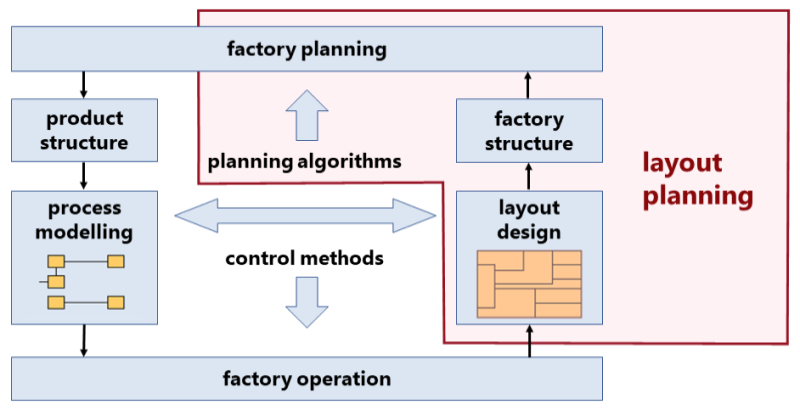 It is necessary, nevertheless, since the two fields must be clearly distinguished methodically. One important reason is the planning horizon, which for factory operation (i.e. in production planning and control) is determined on a daily basis and thereafter for the short to medium-term, whereas factory planning (and thus also layout planning) is rather a medium- to long-term process and by definition not considered on a daily basis. This leads to very different demands being placed firstly on the methods and algorithms, and secondly on the (digital) data and resulting key figures.
Whereas, in factory operation, movement data are generally broken down to the individual parts and the sequences of the corresponding manufacturing jobs to control the optimum use of the resources, factory planners study material movements in a much coarser form. They are more concerned with the material flow in its entire structure and against the background of different future scenarios, some of which may still be relatively uncertain.

Where control methods and models are guided by the capacity utilization of the resources and throughput times, factory planning processes are reflected in production layouts. In this context, the expected efforts in transportation or area utilization are interesting key figures.

If production planning is concerned with the definition of production batch sizes, job orders or numbers of employees per shift, the design parameters for factory layout planning are rather of a functional and geometric nature, i.e. the types, dimensions and positions of Layout Objects.


On the other hand, planning and operation of factories must harmonize with each other, and that's why models are necessary to combine both. The value stream can be a valuable basis. This model covers, on the one hand, sequences (processes) and, on the other hand, resources. visTABLE® integrates information about the value stream by way of its module visTABLE®logix in such a way that notes how to optimize layouts result and possible logistic concepts can be evaluated immediately. For example, visTABLE® opens up a uniquely simple and transparent way from the value stream to the layout.
The planning process
Planning of the layout for factories comprises the arrangement of objects (Layout Objects) in a three-dimensional space (Layout Area) optimally if possible. The large number of objects, with their in some cases multi-dimensional interdependencies, and the knowledge gains with regard to the planning subject itself over the course of planning, demand a planning process which can cope with this complexity. Iterative procedure models are deemed the best choice. When using these models, a limited number of (small) defined steps is repeated several times (in phases) with the objective of verifying and refining planning decisions in accordance with the gains in knowledge. For production system, for example, these are the following five steps:
Elaboration of the production program (P);

Determination of the functions (F);

Dimensioning (D),

Structuring (S),

Design (G).


When combining these five steps with a horizontal consideration of the planning course in the form of a matrix in timely delimitable phases, a procedure model results: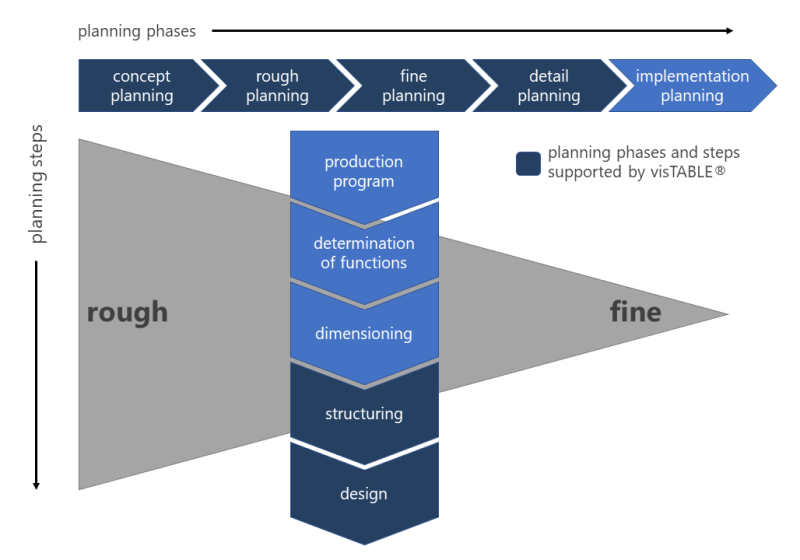 Steps of planning
Planners generally follow these steps:
First of all, parts that can serve as type representatives for a group of similar parts for planning purposes must be identified from the entirety of parts which are to be processed in the factory. These parts are also called parts or complete Product Families. Their entirety per reference period forms the production program. The question in this context is: What is to be produced in which quantity?

Each parts family passes later several resources (e.g. manufacturing locations) in accordance with the sequence of technologies required for the manufacturing. These resources perform technological functions that are to be specified for the appropriate production program. Factory planners call this technology selection Determination of the Functions. The question in this context is: What or which technology is to be used for manufacturing?

Subsequently, the number of the resources required to execute the production program is to be determined. This is the phase of dimensioning. Mostly, block layouts are edited in this step which merely describe the space as the Layout Object which is required by the resources. The question is: How many resources are required?

Only structuring and design deal with the arrangement of the resources in the layout - the actual structure and layout planning. In this context, the following questions arise: Where and how to arrange the resources in detail?


All this is repeated from the beginning at each planning phase, with the last two steps - structuring and design - becoming more and more important as planning progresses and thus occupying the most time within the overall scope of layout planning tasks. If the abundance of information at these steps is also taken into account, then several persons with different professional specialties are required who together and - in line with the increasing dynamics of the production programs - to act continuously to plan and optimize the structure and design of a production system.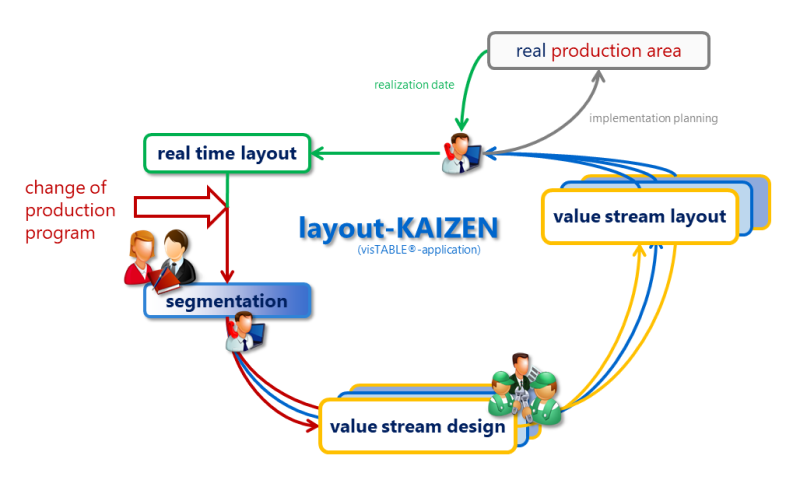 The Participatory Operation and Software Concept of visTABLE® is consequently aimed not only at individual experts for planning projects, but especially at groups of persons consisting of planners and operators of production systems who see themselves committed to the continuous improvement of the factory layout within the meaning of KAIZEN by way of digital tools.
Terms and definitions
The following chapter provides a few important terms and definitions that have their origin in the science of management for systematic factory planning and are implemented in visTABLE®.
Layout area and layout objects
A layout area is the area of a layout in which functionally interrelated objects (layout objects) are to be positioned.

The layout area can be limited (normal case, e.g. workshop, existing building, parcel of land).

Free, unlimited layout areas are used in the new development of production locations (so-called greenfield planning), but the development of ideal micro layouts is also started from layout areas e.g. to be able to reach working sequences oriented towards the creation of values (so-called line-back principle, e.g. for the design of production lines).



Layout objects are geometrically determined bodies that are to be positioned in a layout area (at fixed positions x, y, z).

To be able to solve the layout task optimally, layout objects are classified by their function, e.g. production systems (machines, assembly stations), logistic systems (conveyor, roads, crane systems), building services or objects of the building structure (walls, girders, doors, gates, windows). Often each functional class are assigned planning methods that can be supported by way of designated software or explicit software functions. For example, the Layout Optimization function in visTABLE®touch helps planning layout structures for layout objects with Resource Character.

Depending on the level of knowledge in the Planning Process, layout objects are either geometrically already defined very precisely (e.g. a system in the detail planning phase) or rather abstract (e.g. a 3D block that in plant structure planning represents a complete manufacturing area in area and height).

Mobile objects (e.g. forklifts, persons, containers) are no layout objects within the meaning of the definition, but layout areas (e.g. roads, workplaces, locations) are nevertheless to be provided for them. These areas themselves are also to be understood as layout objects, but not as layout areas.


Operations and transports
In industrial engineering, processes are broken down into process operations. As far as the material flow analysis is concerned, it is basically only to be differentiated how far a process operation is performed in a fixed place (e.g. machining, storing) or with material movements (transport). The following terms are used:
Operation (syn. process step) is a non-stationary manufacturing, assembly or logistic sequence of any complexity which requires a transport from or to another operation to start or end.

Transport is a directed material movement between two operations characterized by:

Resources, flows and flow relationships
Resources are Layout Objects at which operations can be executed. They are sources if a flow emanates from them. They are sinks if a flow enters them. In the material flow, sources and sinks are called flow objects. In other words: There is at least one flow relation for each source and each sink.

The term 'flow' is used to designate an aggregated number of transports in the same direction between two resources. The aggregation of transports to flows is performed by adding up the normalized Transport Intensities. Adding-up is possible under the following conditions:

The term 'flow relationship' is used for the direction-independent aggregation of Transport Intensities for all flows with the same source-sink pairing across several means of transport. In other words: An aggregation to flow relationships is only connected to the condition of the same reference for the Transport Intensity (normalized material flow).

It is possible to represent flow relationships schematically in an undirected transport matrix which is aggregated from the directed transport matrix (see illustration).

The intensity of the flow relationship between the objects A and B in the example diagram would be 12. (A -> B = 10) + (B -> A = 2)




Intensity and efforts in transportation
Transport network and transport means
The term 'type of transport means' is used to describe a number of transport means of the same type by way of a valid name (string), i.e. these transport means


use the same routes (within the meaning of transport networks),

have the same Cost Structure,

have an equivalent capacity, i.e. they produce the same loading capacity and same number of transports per time unit with the same cargo.

An example for an invalid name is:

universal: This string is used as network name which can assume several types of transport means.


The term 'transport network' is used for all possible route sections that can be used by a number of types of transport means. A transport network can currently be assigned exactly one or all network-compatible types of transport means.


It comprises nodes (junctions) and edges (linear path sections), with an edge being a directed connection between two nodes and able to limit the transport direction (as one- or two-way traffic).

A transport network can comprise unlinked segments, i.e. not all nodes of one and the same transport network can be accessed via the edges even if each edge allows two-way movements.



Flow systems and product families
A flow system is a subset of all flow objects that are linked with each other by flows such that each flow object is directly or indirectly related to each other flow object via one or several flows.

A product family always represents a number (scope: 1 … n) of parts that pass the same operations with similar expenditure of time. They are formed in accordance with process similarities. The following terms are used in practice as synonyms:

(Production or logistics) type representatives,

Part type,

Part family,

Reference part or product.



The resources of a product family do not form a flow System within the meaning of the definition. It can occur as an individual case and becomes usable, for example, in the Value Stream Analysis. A product family can, however, also include several flow systems or also only parts of them (normal case).