What is new ...
Better in detail
Each update serves the goal to make the software more user-friendly, more robust and in the end also faster. To this end, many details have been improved again, which are initially hidden and may only become apparent when you use the software. To list all this here would be tedious, so here are only the essential invisible things:
The visTABLE®ObjectManager has been made more responsive in handling the shared model library. Waiting times for updates within catalogs located in the network should now be significantly shorter.

Robustness against incomplete data during JT import and import in general has been improved. Here, for example, a typical problem caused by incomplete material definition in import data sets has also been expanded by a creative idea to useful feature. In addition, the calculation of the 2D derivation for imports in visTABLE®ObjectManager could be made more robust and faster.

The speed could be further increased in some places. This is also accompanied by the further extended support of CAD data when importing as background and into the model library.


In addition, there are of course also visible new features. Here the overview:
Tutorials directly in the help
This help was supplemented by a chapter with initially 2 tutorials.
More possibilities when searching in the model library.
Up to now it was possible to enter several search terms in the model search separated by spaces. These were linked according to OR logic. Now there is an additional AND logic: Simply enter a PLUS character at the end of your search terms. Then visTABLE® will only return models as result which contain all search terms in
object names,

catalog names,

area types,

custom attributes.


This means that you can now find models and modules more specifically than ever before in visTABLE®. And this is all the more valuable, because with this update the model library has been expanded again with many practical 3D models for layout planning.
Search in Explorer finds custom attributes
Custom attributes can be defined for each object in the layout via properties. Thus the objects receive e.g. cost centers, connection parameters, weights and similar planning information. The search in Explorer now allows to filter the structure tree also by these attributes.
Editing options for types of area
An essential innovation of the planning functionality concerns the Area balance. Here it is now possible to individualize. I.e.
of the area types you choose yourself. Of course, the standard visTABLE® area types are still available. However, these can now also be deleted if they are not useful in the concrete layout. Exceptions are the standard area types undefined and ignore. The name open space must not be assigned as a designation of a separate area type, logic dictates this.
In addition, the visualization of the area balance in the layout area has been changed in such a way that now only those objects are colored which are actually balanced. I.e. objects outside the reference area for the area balance are now colorless as long as the area balance task area is displayed.
Blocking the scalability of equipment.
In the Properties of equipment models there is a tiny, but still very valuable new feature: scaling can now optionally be prevented. I.e. accidentally scaling machines and other factory equipment by unintentionally dragging the scaling adorners in the layout area is a thing of the past if the dimensions are locked in the properties.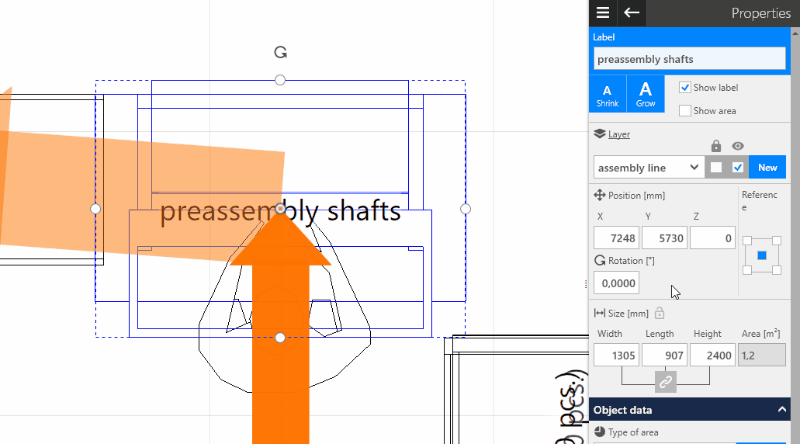 This feature also locks the input fields for dimensions. It is not available for area shapes, circular shapes and polygons (catalog block layout). There is no preassignment of the models in the model library and therefore no setting option in the visTABLE®ObjectManager. So set the block completely free according to your needs directly in the layout.
Easier moving and duplicating of models in visTABLE®ObjectManager
If models are to be moved from one model catalog to another, the new actions Cut and Paste in the menu of visTABLE®ObjectManager are now available for this purpose. In this context, the Copy action is omitted in favor of a Duplicate action.

Cut removes one or more models from a catalog once they have been assigned to the target catalog with the Paste action. Moving models within the Model Library has thus become more robust and convenient compared to previous versions.

Duplicate immediately creates a copy of one or more models in the same catalog. This also shortens the copying of models to one action and thus accelerates the execution.+



Selective export of product families
Up to now, only the transport information of all product flows could be exported together from visTABLE®logix into an Excel® table. This is now also possible selectively. To do this, select the checkboxes of the product families to be exported in the View production program. The selective export can then be started via a new action in the menu on the left. The resulting Excel® table will then only contain the transport information of the selected product families.
The export actions in the button block of the View production program (visTABLE®logix) as well as the export via the task area material-flow (visTABLE®touch) work unchanged.
In addition, you can now filter product families more specifically. Because the product family filter now also searches the goods flow graphs for resource names. So it is for example possible to filter out all commodity streams in which a certain resource is assigned.
More comfort in color selection
A modernized, more comfortable control for coloring is available in various areas, e.g. when changing colors for the
2D coloring of objects in the layout area (Dynamic menu),

3D coloring of selected objects (Properties),

flow visualization (visTABLE®logix: Edit product families),

visualization of area types (area balance).


The new control element for colors makes it easier to implement company-specific color standards, for example. This is because, in addition to RGB, there is now also a color selection by hexadecimal code, whereby colors are described with only a 6-digit character string. This also makes it easier to transfer colors from one object to another.
And the best for the end: If you import geometry data with undefined material properties in the visTABLE®ObjectManager, visTABLE® now creates the resulting models with adjustable color. I.e. you can then color these models afterwards when using them in the layout, of course with the new comfortable control element.
Optimized line width for paper printouts when saving PDFs.
PDFs are often used for on-screen display, and you should be able to zoom in smoothly in this usage without loss of detail and stair-step effects. Lines have no actual width in this form of usage. However, when PDFs are printed on paper, lines are expected to have a width that can be seen with the naked eye: infinitely thin lines must not and cannot exist when printed. To cover both scenarios, one can now choose in the Print dialog for which purpose the PDF should be generated.
In addition, the scale list for the print documents has been extended by useful gradations between 1:250 and 1:500.
New model catalogs
With the new catalog Floor Marking there is now the possibility to apply in the layout always well visible strip markings and other ISO-compliant signage on the floor.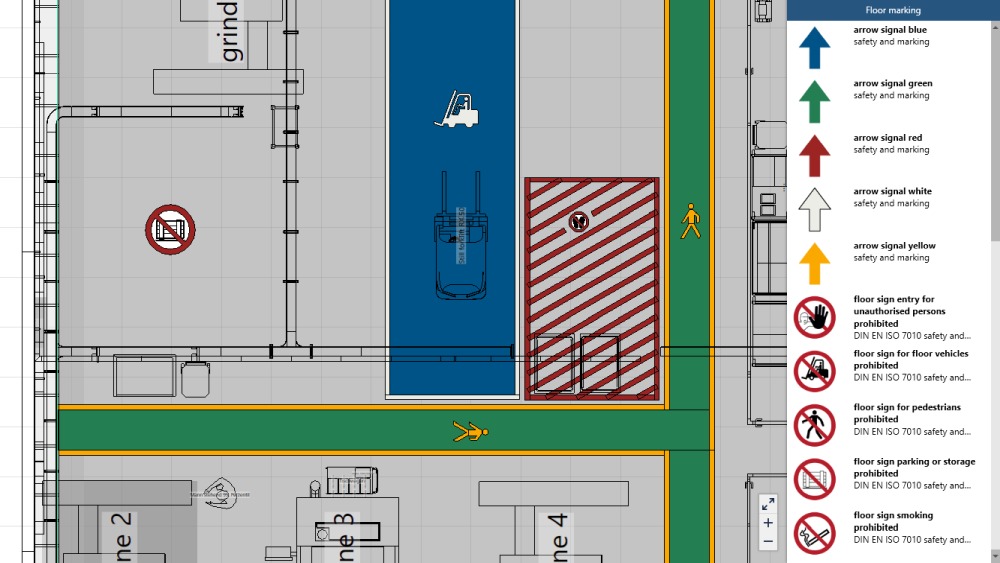 The following catalogs have been added to the Shelving Planning section: Cable Drum Shelf, Cantilever rack, Mobile racking systems, Pallet rack which allow flexible assembly of various shelving systems.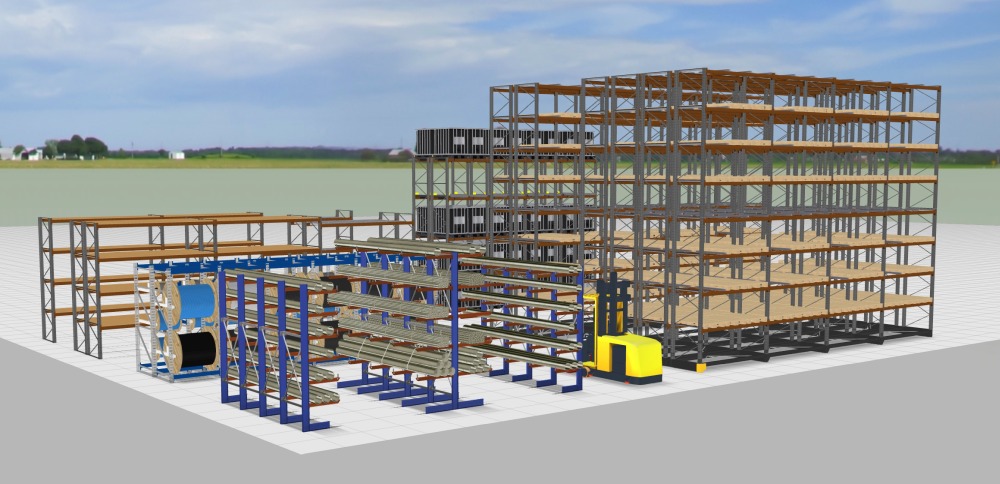 The catalog collection Cable trays, Cable trays Width 100 mm, Cable trays Width 200 mm, Cable trays Width 300 mm, Cable trays Width 400 mm, Cable trays Width 500 mm contains typical elements for planning cable trays and cable ducts.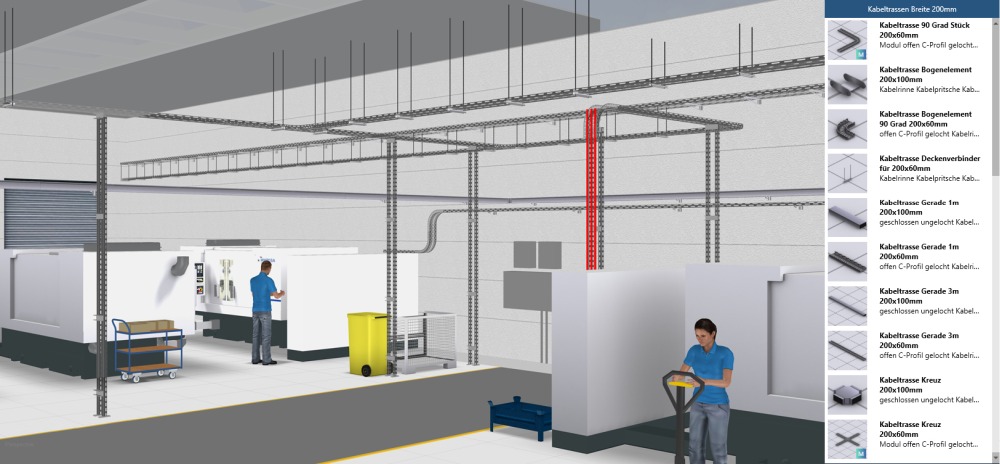 Extensions in model catalogs
The catalog Cranes was extended by KBK models (crane construction kit).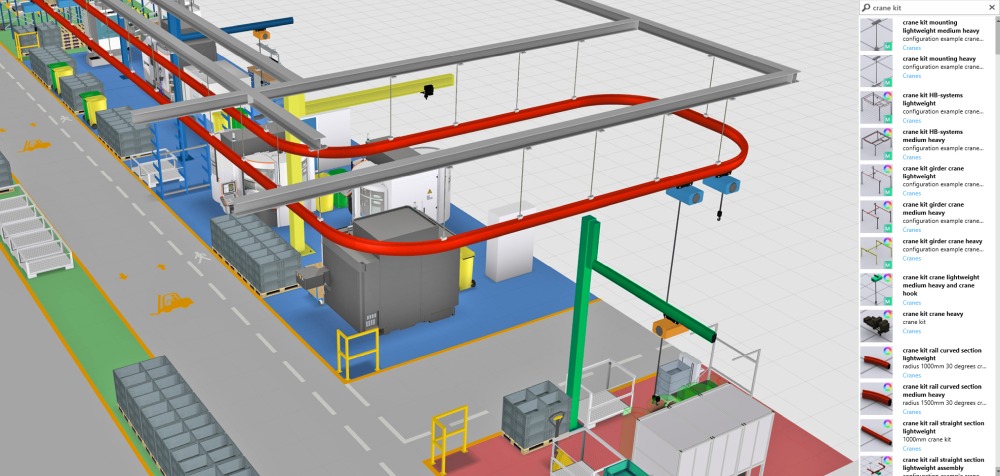 The Containers catalog has been expanded to include octabin, IBC containers, wooden pallets, trash cans (120, 660, 1200 liters), plastic lidded drums, wide-necked lidded drums and bung drums.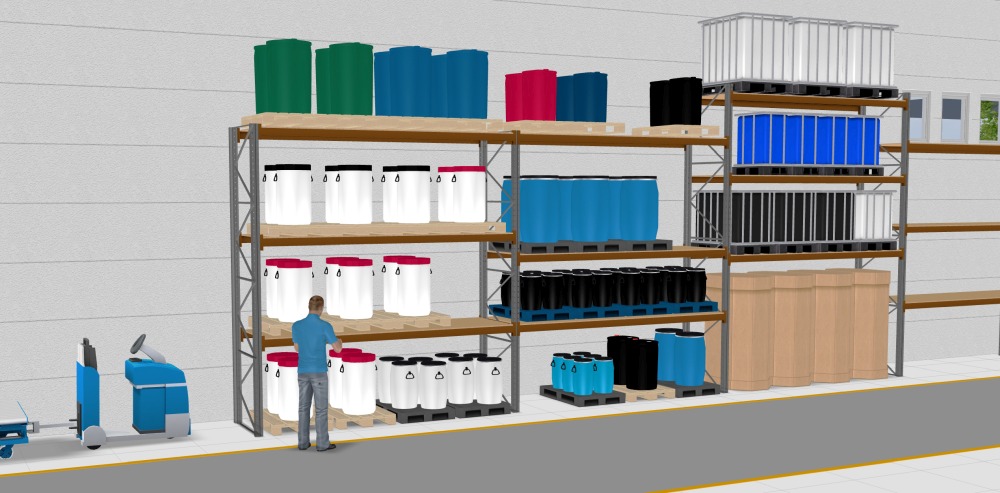 The catalog Factory equipment was extended by workshop cabinets, stand ashtrays and self-extinguishing waste garbage cans.

The catalog Office was extended by Visual Infoboards, filing cabinets and shelves.

The catalog Social space canteen and supply was extended by refrigerators with viewing window.



Support
If you have an active service agreement, do not hesitate to contact our support department in case of technical questions:
See also: